• USE : Hike
• DESCRIPTION : This trail is reached by boat and begins at the head of Silver Bay.  A mooring buoy is available at the anchorage near the trailhead. The trail follows an old-growth forest valley to a Forest Service public use cabin. After the cabin, the receives very little maintenance.
• DISTANCE : 1.75 miles (one way, to cabin), up to 5.8 miles (one way, to Redoubt Lake)
• TIME : 1 -2 hours (one way, to cabin)
• TRAILHEAD : Trailhead is on the left-hand side of the bay before entering the estuary narrows.
• ELEVATION GAIN : Minimal.
• RECOMMENDED SEASON : Spring – Fall
• LEVEL OF DIFFICULTY : Moderate
• TRAIL MANAGEMENT AGENCY : US Forest Service
---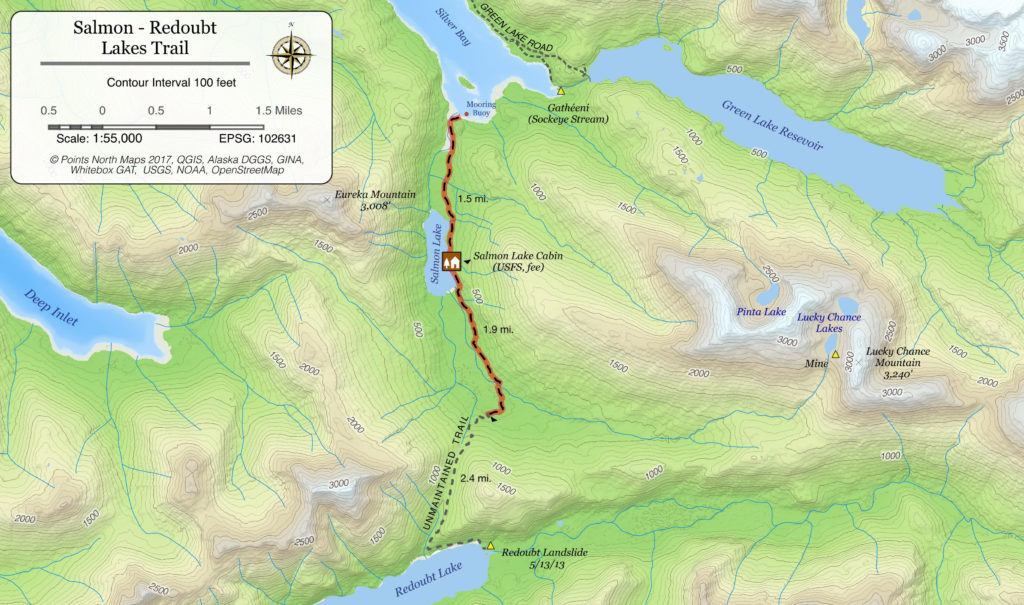 ACCESS
The trailhead is located about 10 miles southeast of Sitka at the southwest end of Silver Bay. Access by sea taxi, boat, or float plane.
SPECIAL FEATURES
There is good fishing in the Salmon Lake area and the head of Silver Bay. A recreation cabin is located on Salmon Lake about 1.75 miles from where the trail begins.daytona watch replica best place to buy fake watches
TRAIL DESCRIPTION
The trail begins on the east side of the mouth of Salmon Lake stream, the westernmost inlet stream at the head of Silver Bay. The initial section of the trail is narrow and skirts along the base of a small cliff. The trail continues along the eastern shore of the estuary for the first quarter mile and then enters a forest of Sitka Spruce, western hemlock, and Alaska yellow cedar. Salmon Lake is visible to hikers after about a mile and the Salmon Lake Cabin near mile 1.75 can be reserved from the US Forest Service at recreation.gov.
The trail used to continue to Redoubt Lake Cabin, but the cabin was buried by a landslide in 2013. The trail still exists but it is rough and slippery. At about three miles the trail travels through a series of muskegs and meadows. There are trail forks in this area; stay on the main (southwestern) trail. During the next half mile the trail re-enters the forest and climbs 500 feet up a narrow saddle to the pass that separates the Salmon Lake drainage from the Redoubt drainage. The tread is rough, slippery and muddy. The pass is about a mile from Redoubt Lake but is impassible to the lake due to a landslide.
CAUTION
The Salmon Lake estuary has bears present much of the year.  During cold temperatures, ice may hinder shoreline access near the gravel bar in saltwater as well as access to the lake from the dock.hublot big bang replica watches
OTHER SOURCES
http://www.alaska.org/detail/salmon-lake-redoubt-lake-trail
https://www.recreation.gov/camping/salmon-lake-cabin-sitka/r/campgroundDetails.do?contractCode=NRSO&parkId=71971
http://www.fs.usda.gov/recarea/tongass/recreation/hiking/recarea/?recid=79120&actid=50